Bob McDonald
General Manager/Vice President of Hospitality for Chesterfield Hotels Inc.
After graduating from Virginia Tech University in 1990, McDonald was the youngest general manager in the country for Choice Hotels, Inc. He then became operations director for the thousand room Sheraton/Marriott Wardman Park Hotel in Washington, D.C. Later, McDonald became director of resort operations in Aspen, Colo., where he helped coordinate the Aspen/Snowmass Jazz Festival and the first Winter X Games. Moving on to the Columbia area, he became general manager of Columbia's Executive Center, before being lured back to Colorado by a former Aspen guest to help renovate their five-star guest ranch.
While working on his master's degree, McDonald began teaching as an adjunct professor in MU's hospitality management program, and took the position as general manager of the Marriott before moving to The Broadway.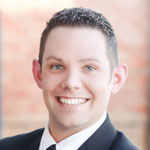 Aric Jarvis
Assistant General Manager
Aric Jarvis brings over 8 years of hotel experience to The Broadway Columbia. His charismatic personality and knowledge of what the guest really wants is what makes him such a great Assistant General Manager. Aric is a Certified Tourism Ambassador for the City of Columbia and serves as a member of the Cosmopolitan Club.
Jeff Guinn
Food and Beverage Director/Executive Chef
Jeff Guinn graduated from the University of Missouri with a Bachelor of Science in hotel and restaurant management and an M.S. in food science. For seven years he has taught, trained and mentored hospitality management students at the university. Having honed his skills in both independent and chain restaurants and bars, Guinn developed a progressive philosophy toward food. As he creates menus he tries to make them artful expressions of the cultural surroundings. Chef Guinn is regarded as one of the area's best culinary minds.
Benjamin Randolph
Chef de Cuisine
Ben Randolph is a certified Chef de Cuisine with the American Culinary Federation and recipient of multiple awards for his talents with food and wine. With over 15 years of experience in culinary arts, Chef Ben is an industry expert with a diverse history. Along the way, he's crafted a unique perspective on food and dining that you will likely find both delicious and entertaining. An apprenticeship at a restaurant that was highly regarded by the prestigious Michelin Guide helped codify his culinary expressions.
Leanne Geiss, CWP
Director of Sales
Leanne is well-known in the community for her impeccable event planning reputation. Previously, Geiss was with the Hilton sales organization in North Carolina, and most recently was director of sales for the Columbia Country Club, where she was named sales person of the year. A native Columbian, Geiss attended Meredith College in Raleigh, North Carolina. This notoriety is what makes her the perfect Director of Sales for The Broadway, where she will continue to work with groups and companies planning various events.
Shelby Vermilye
Revenue Sales Manager
Shelby Vermilye is fairly new to the Hospitality Industry as a recent graduate from the University of Missouri with a degree in Hospitality Management, emphasis in Lodging, and a Minor in Business. Starting out as our Front Office Manager Shelby has grown with the success of The Broadway and was recently promoted to Revenue Sales Manager. Shelby's down-to-earth attitude and strong work ethic have helped guide many others and shape our property into a one-of-a-kind hotel in service and design.
Kristen Cassidy
Catering Sales Manager
Kristen graduated from University of Missouri with a Bachelor of Science in Hospitality Management, an emphasis in Lodging and a minor in Business.  This Columbia native started at The Broadway as a Front Desk Agent but became the Catering Sales Manager upon graduation.  The combination of her genuine passion for people and attention to detail ensures that her events will be executed beautifully.
Ralph Green
Chief Engineer
Ralph Green brings over 13 years of experience as a Chief Engineer to The Broadway. Before becoming the Chief Engineer at previous properties, Ralph was a master electronic, appliance, and HVAC technician for more than 20 years. He is a skilled cabinet maker, jeweler, welder, plumber, electrician, and more. He spends his free time tinkering with just about anything he can get his hands on. He loves woodworking, gardening, fishing, hunting, astronomy, and rock hounding. Ralph truly is a jack of all trades.